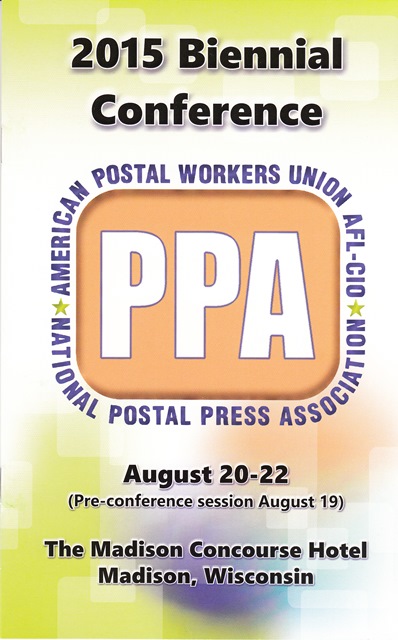 Click on image to the right for PPA Conference information and Conference Registration Form.
To access the Concourse Hotel website and to make room reservations click here.
Attend the 2015 Biennial PPA Conference!
The booklet at right contains a detailed description of the educational opportunities available at the upcoming PPA Conference.
This year's conference is expanded to include eleven workshops, all designed to help improve your communication efforts, both internally and externally and arm you with the skills needed for confronting the many issues affecting the livelihood of APWU members.
They include: influencing public support; publication design; member involvement and union building; political cartooning; using electronic communication; labor history; photojournalism; news, headline and feature writing. A pre-conference gathering will provide additional learning opportunities: effective communication in recent labor struggles; legal issues of communication; APWU history; coping with stress.
Also featured will be general sessions including: speakers Ruth Conniff, editor-in-chief of The Progressive Magazine; John Nichols, reporter, political writer and commentator; press conference with APWU President Mark Dimondstein; legislative update with APWU Legislative & Political Director John Marcotte; Friday Night at the Movies, featuring the film Inequality for All; opening reception/buffet dinner and awards banquet.
Children of delegates can participate as well. As described in the accompanying booklet, a segment of the conference will include a performance by the APWU History Players Puppet Theater. If your child or grandchild will be with you at the conference and you would like him or her to participate please contact the PPA.
Since the early days of the labor movement, labor songs have been an important component during rallies, strikes, demonstrations and parades. Joining us at the opening reception of the conference will be the Solidarity Sing-A-Long Singers. This group of activists should be an inspiration to us all. Since the Wisconsin Uprising of 2011, they have continued to demonstrate at the capitol in Madison from noon to 1:00 each week day.
Also, special guest at the awards banquet will be singer, labor activist and all-around hell raiser Anne Feeney.
This conference has it all…from education, to inspiration to solidarity! We hope to see you and representatives of your organization at the 2015 Biennial PPA Conference!
Quote of the Month - July

"The only effective answer to organized greed is organized labor."

--Thomas Donahue