2015 PPA Awards Presented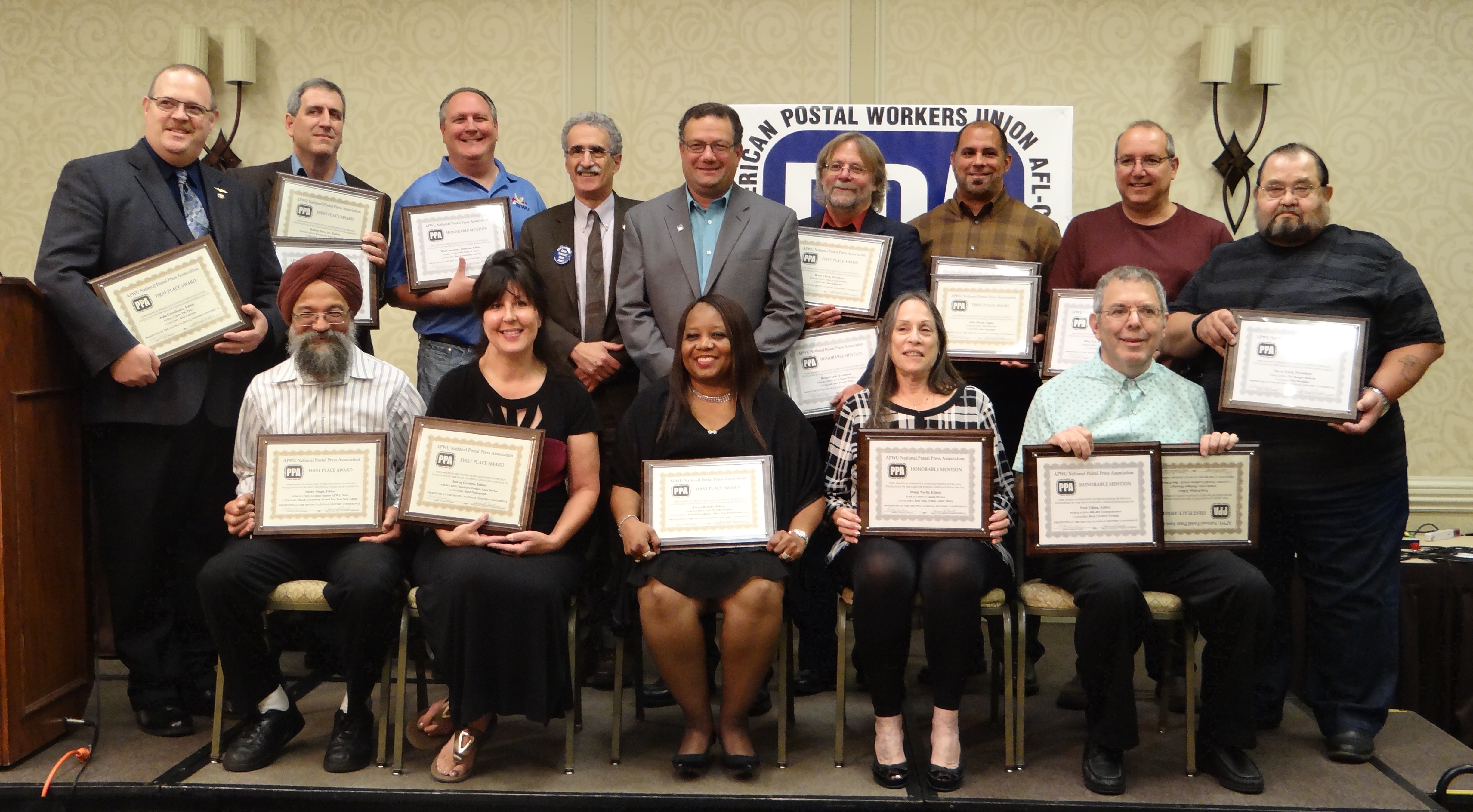 Proudly displaying 2015 PPA Awards after the Awards Banquet at the PPA Biennial Conference in Madison, Wisconsin are (seated left to right) Sarab Singh, editor, Greater Seattle APWU News; Karen Gordon, editor, Southern Oregon Area Review; Tonya Brooks, editor, Fort Worth Outpost; Diane North, editor, Coastal Breeze; Paul Felton, editor, Michigan Messenger, 480-481 Communicator; (standing from left to right) John Greathouse, editor, The Pacer; Robert Dyer, Jr., editor, Evergreen State Postal Worker; Mike Bates, associate editor, DMI News & Views (representing Mark Sarcone); APWU President Mark Dimondstein, PPA President Tony Carobine, Lance Coles, editor; Iowa Postal Worker (representing Bruce Clark); John Miceli, editor, The Hi-Lites; John Zamudio, associate editor, The Auxiliary Spirit (representing Mary Lee Brennan); John Durben, editor, The Badger Bulletin.
Download:

PPA Award Recipients.pdf
| | | |
| --- | --- | --- |
| | 2015 PPA Conference Photos | |
| | | |
| | | |
Quote of the Month - October

"Any song that points out something that is wrong, needs fixing, and shows you how to fix it - is the undying song of the working people. If it is made a little jazzy or sexy that ain't wrong - what book could you read to a crowd that would make them dance?"

--Woodie Guthrey, in Woody Sez, 1975
Solidarity Sing Along: An inspiration to all
Note: From workshops to the general sessions, to activities with brothers and sisters from the Madison area, this year's PPA Conference was an activist's conference. Included were three solidarity inspired events with a group called Solidarity Sing Along. Following is their introduction as presented by PPA President Tony Carobine at the opening reception of the conference.
"Throughout the history of the American labor movement, music has played a vital role in galvanizing union members and creating in them a common bond. Union songs are songs with a message. Thousands have been written by union members and others over the years.
Many of these songs were about the fighting spirit of the workers and their determined struggle to improve their conditions through organization.
The purpose of these songs remains the same – to narrate a story, to capture a mood, or to stimulate particular action. Music has also played a crucial role in sustaining the efforts of social movements as well, in fact, right here in Madison.
In 2011 when Governor Walker introduced his 'Budget Repair' bill which would strip public employees of their union rights, he was greeted with weeks of mass demonstrations, some involving upwards of 150,000.
While the mass protests gradually subsided, a core of activists launched the 'Solidarity Sing Along' on March 11, 2011, to mark not only their continued opposition to the right wing attack on unions and working people but also their affirmation of Wisconsin's progressive and pro-labor traditions.
Since March 11, 2011, they have gathered to sing, for and with audiences, in the Capitol Rotunda or out on the lawn, every weekday at noon.
This hasn't been easy. The singers have endured blizzards, abuse from counter protesters, lie-filled press releases from the Walker Administration, and plain old weariness…however, they have remained steadfast and unintimidated.
When Walker couldn't endure any more of this peaceable, daily assembly, he hired a new Chief of the State Capitol Police and told him to silence the singers…despite police efforts the singers remained steadfast and unintimidated.
In July of 2013, with their bosses fearing these singers would rekindle the protests of 2011 and with Walker eager to kick off a presidential campaign, the Capitol Police were ordered to start arresting people in the Rotunda of the capitol. Their alleged crime…singing.
Despite all of these efforts to destroy them, the Solidarity Sing Along continues…steadfast and unintimidated. This is truly an inspiration for all of us.
During the 2013 PPA Conference, we had the pleasure of joining them on the lawn of the capitol for a noon Sing Along and they joined us at our Awards Banquet. We will again be participating in the noon Sing Along this Friday as we did at noon yesterday.
I thank them for the example of solidarity they have set and for accepting our invitation to spend some time with us this evening. …Brothers and sisters, please join me in welcoming Solidarity Sing Along."
Below are four songs performed by Solidarity Sing Along at the conference opening reception. (Thank you to John Durben, editor of The Badger Bulletin for providing the videos.)
Solidarity Sing Along - Bring Back Wisconsin
Solidarity Sing Along - Don't Want Your Millions
Solidarity Sing Along - Joe Hill
Solidarity Sing Along - Solidarity Forever