2017 PPA Awards Presented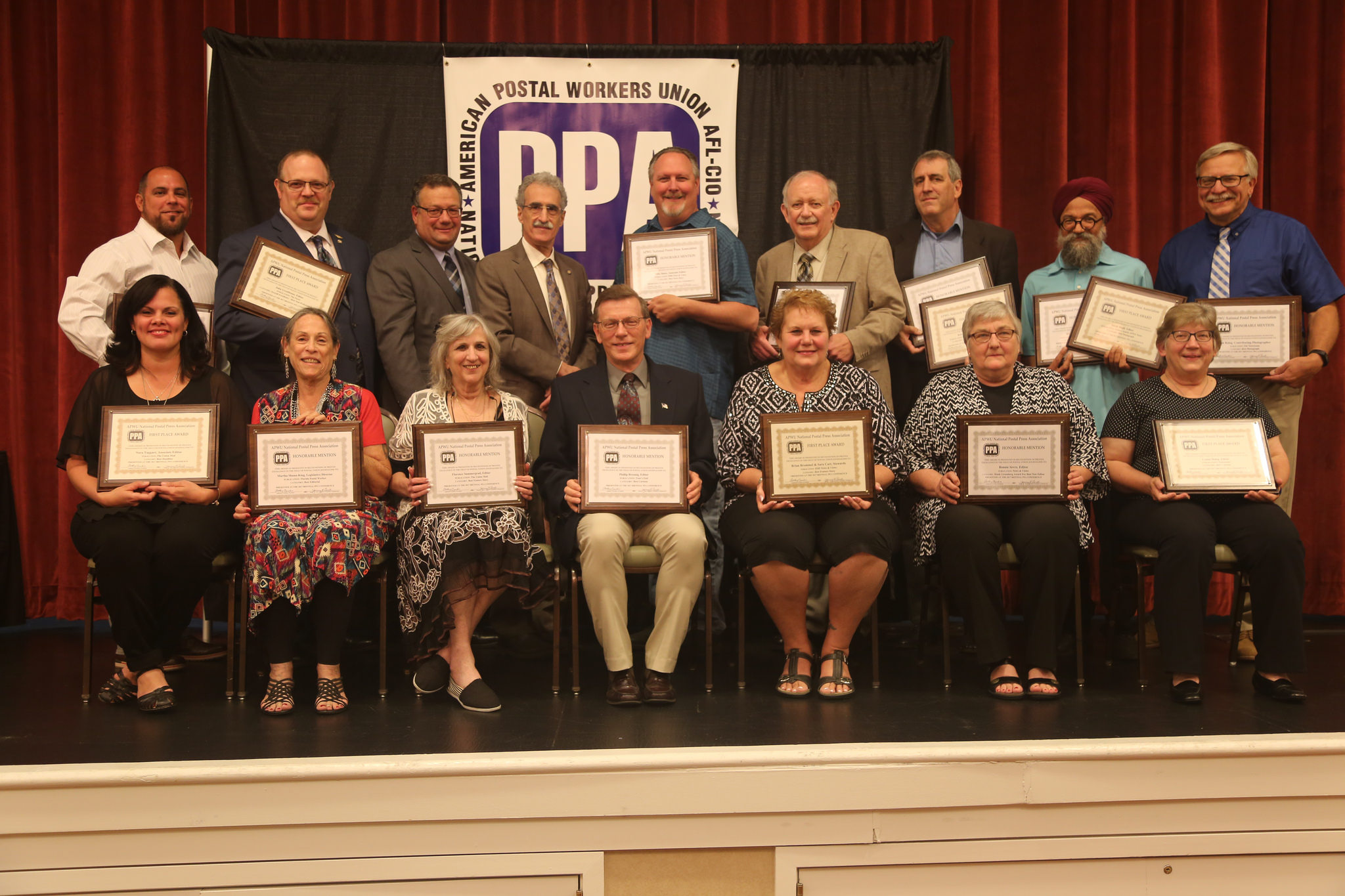 Proudly displaying awards at the awards banquet during the 2017 Biennial Conference of the APWU National Postal Press Association (PPA) in Altoona, Iowa are (seated left to right) Nora Taggart, associate editor, The Union Mail, New York, NY; Diane North, editor Florida Postal Worker, Davie, FL (representing Martha Shunn-King); Florence Summergrad, editor, The Union Mail, New York, NY; Phillip Breunig, editor, Tour's End, Gainesville, Florida; Cindy Housh, editor, DMI News & Views, Des Moines, Iowa (representing Brian Brommel & Sara Cart); Bonnie Sevre, editor, News & Views, St. Anthony, MN; Louise Balog, editor, The Newsroom, Mentor, OH; (standing from left to right) John Miceli, editor, The Hi-Lites, Milwaukee, WI; John Greathouse, editor, The Pacer, Lansing, MI; PPA President Tony Carobine; APWU President Mark Dimondstein; Mike Bates, associate editor, DMI News & Views, Des Moines, IA; Bruce Clark, president, Iowa Postal Workers Union; Robert Dyer Jr., editor, Evergreen State Postal Worker, Mountlake Terrace, WA; Sarab Singh, editor, Greater Seattle APWU News, Seattle, WA; Jim Balog, contributing photographer, The Newsroom, Mentor, OH.
First place and honorable mention awards in 14 categories were presented at this year's conference. The PPA Awards Program was established at the 1967 conference in Cleveland, Ohio. Originally called the Biennial Award of Merit Program, it was established for the purpose of recognizing editors, and newsletter contributors for outstanding work in writing, editing and publishing. The first awards were presented at the 1968 PPA Conference in Minneapolis, Minnesota.
Click on the link below for a complete list of award recipients.
Download:

2017 PPA Award Recipients.pdf